The 2021 Subaru Love Promise Community Commitment Award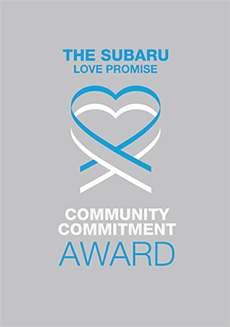 We've been nationally recognized for our dedication to our community and the Subaru Love Promise.
We're honored to receive the 2021 Subaru Love Promise Community Commitment Award. This award nationally recognizes Subaru retailers who are making the world a better place while demonstrating an outstanding commitment to supporting passions and causes in local communities. These efforts are focused in important areas such as the environment, community, health, education, and pets.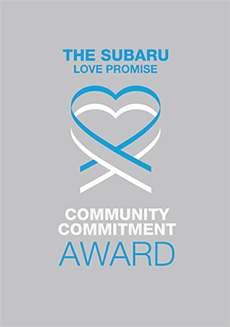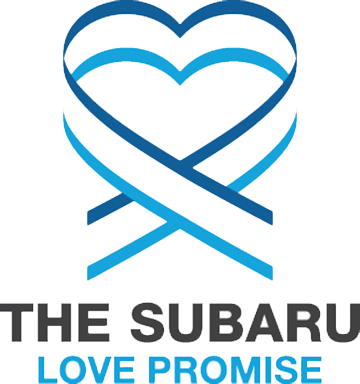 What is the Subaru Love Promise?
Subaru and our retailers believe in making the world a better place and the Subaru Love Promise is our vision of respecting all people. This is our commitment to show love and respect to our customers and to work to make a positive impact in the world.
How is Balise Subaru dedicated locally to the Love Promise?
Our Love Promise can be seen in various partnerships with local charities and non-profits. We're grateful for the opportunity, not only to be a part of our community, but to serve it as well.
West Warwick Animal Shelter, Friends of Homeless Animals, Inc.
Race the State RI, Bike Fest RI, Toys for Tots
Hasbro Children's Hospital, Jimmy Fund, Ocean State Tour de Cure
Love Promise Stories from Balise Subaru
Subaru and Balise Subaru believe in making a positive impact on the communities in which we live and work. We uphold that belief through our Love Promise Community Commitment. Every month, we select inspiring stories from customers and partners from around our area who strive to support our collective commitment and feature them here
Balise Subaru Continues to Share The Love! - Jenny G
Balise Subaru once again has selected Hasbro Children's Hospital as their hometown charity for Subaru of America's Share the Love event. Thank you to Balise Subaru, the Balise family, and all of thier amazing customers for helping to raise $50,000 for our local children's hospital!
---
Service with my Son - Chelsey H
In December 2020 I went to Balise Subaru for my 20,000 mile service. Typically they give me a car to use but it was only going to take an hour or so for this service so I decided to wait at the dealership this time. I was with my 3 year old son, after checking out the new cars on the showroom we sat down in the waiting area. The only thing other than a couple chairs was a little kids table with no toys or anything for my son to do, I had overlooked this when I decided to wait with him... After a few minutes of my son semi-nagging me because he was bored, my service advisor came over to us and unwrapped a brand new Subaru box with a coloring book, a toy car and some crayons/markers for him to play with at the table! I really couldn't believe how sweet they treated my son and I. It was an absolute home run! They didn't have to do that, and with how COVID has left me dreading going to any retail type store this was pure GOLD! Completely COVID approved and very thoughtful.
---
House of Hope CDC - Melissa B
We are so thankful to Balise Subaru for holding a coat drive to benefit the clients we serve at House of Hope CDC. During these challenging times, there are so many people sleeping unsheltered each night. And as challenging as that is for all of us doing this work, we are often amazed by the generosity of the community and businesses like Balise Subaru. All of the items collected have already been put to good use by a number of our clients. Thank you so much!
---
Balise Healing Garden @ Hasbro Children's Hospital - Giovanna B
PROVIDENCE, R.I. – Hasbro Children's Hospital today announced a milestone in its ongoing renovations with the completion of the new Balise Healing Garden and a completely reimagined playground. The space was made possible by donor support of a special fund-a-need opportunity, and with generous gifts to the Every Child, Every Day campaign – the $35 million effort funding the hospital's modernization projects. "This is a very special project. We know there's a correlation between spending time outside and the healing journey for children, and that a place for respite brings normalcy to a child's hospital stay," said Timothy J. Babineau, MD, President and CEO of Lifespan. "We are beyond thankful to Jeb Balise, his family, and all of our incredible supporters whose generous philanthropy made this transformation a reality. Hasbro Children's has truly been built by our community, for our community." Located outside the lower level of the hospital and nearby the ambulatory and primary care clinics, the Balise Healing Garden and conjoined playground are 29,000 sq. ft., a footprint 20 percent larger than it was previously. Entering the area, patients and families are greeted by a teaching garden that features raised beds, each housing vegetables and herbs according to their colors and characteristics. Adjacent to the garden and an important element of the area is a completely re-worked Healing Arts Theatre. It features a triple tier of stadium-style benches made from teak wood, facing a performance area with a variety of chimes and drums for patients to play and use to express themselves. The space is of particular significance for behavioral health patients and the hospital's Healing Arts Program, which is integral to patient care and helping children cope with illness or injury. "Balise Auto and the Balise Family are proud to partner with Hasbro Children's Hospital in the creation of the Balise Healing Garden," said Jeb Balise, owner and CEO of Balise Auto. "It is our hope that this peaceful space brings comfort and healing to children for years to come." A short distance away is all-new playground equipment, including various swings, a play hut, and a climb-on structure with a wheelchair accessible slide. Built upon a special cushioned foam base for safety, the playground equipment is constructed from recycled materials, including oral care products and packaging that resulted from a recycling initiative led by CVS Pharmacy, Colgate-Palmolive Company, Starlight Children's Foundation, and TerraCycle. The recycling program called upon people nationwide to recycle their oral care products and packaging to help their state win a playground for a children's pediatric facility. For three months in 2019, CVS Pharmacy customers in Rhode Island recycled more toothbrushes, empty toothpaste tubes and floss containers than any other state in the country, and Hasbro Children's Hospital was awarded the grand prize. The new playground was then complemented by the addition of picnic tables, benches and chairs, and walking paths. At its far end is a basketball area with an adjustable height hoop.-MORE-"We were able to help build this wonderful playground for families at Hasbro Children's Hospital while incentivizing recycling among our CVS Pharmacy customers," said Eileen Howard Boone, SVP of Corporate Social Responsibility & Philanthropy and Chief Sustainability Officer at CVS Health. "It's a win-win for everyone involved, most importantly the countless children who will enjoy the playground for years to come." The Balise Healing Garden and the playground were completed in late September, allowing for limited numbers of patients and families to enjoy the space while also following current health and safety guidelines. The area is cleaned regularly, and informational signs regarding COVID-19 and sanitizer stations are placed throughout. Construction of the project was led by Cranston-based Pariseault Builders." Lifespan and Hasbro Children's have been tremendous partners over the years. We take great pride in helping those who help others and this outdoor space immediately became important to all of us," said Brian Casey, President of Pariseault Builders. "This is more than just a beautiful outdoor area – it is healing space where care and kindness comes together with fun so patients can be kids. We're proud to have been a part of rejuvenating this area to turn it into the bright and welcoming space it is today." Along with donors to the hospital's special fund-a-need, Balise Auto and Balise Subaru, and partners CVS Pharmacy, Colgate, Starlight Children's Foundation, and TerraCycle, the project was supported generously by the Rhode Island Shriners, Deanna and Scott Donnelly, and Julie and Michael Mahoney.
---
Balise Subaru Raises $28,683 for Hasbro Children's - Jenny P
When Subaru dealerships across the country supported their favorite charities during the company's annual "Share the Love" event, Balise Subaru in West Warwick raised $28,683 for Hasbro Children's after naming the hospital its local beneficiary of the program. "Share the Love" is the automobile company's signature national effort that encourages Subaru retailers to give back to their local communities. Over the course of six weeks, Subaru donated $250 for every vehicle sold or leased to the purchaser's choice of benefitting charities. This past event marked the fourth consecutive year Hasbro Children's was selected as the charity of choice by the Balise staff, giving their customers an opportunity to support the area's leading pediatric hospital. In addition to Hasbro Children's, charities included ASPCA®, Make-A-Wish®, Meals on Wheels America, and the National Park Foundation. "The Subaru brand and the 'Share the Love' campaign align perfectly with our Balise philosophy of doing our part to enrich the communities in which we live and work," said Jeb Balise, Owner, and CEO of Balise Motor Sales. "For the fourth consecutive year, our team at Balise Subaru combined their passions for selling Subaru with helping their local community in support of an incredible cause." Since first partnering with Hasbro Children's for "Share the Love," Balise Subaru's efforts have raised more than $125,000 for the hospital in support of patient care, medical equipment, and research. "The continued support of everyone at Balise Subaru, and the incredible response of their customers to direct their donations to our hospital is nothing short of amazing – it's difficult to put into words how grateful we are," said Margaret M. Van Bree, MHA, DrPH, president of Rhode Island Hospital and Hasbro Children's Hospital. "We are a community that cares deeply for children and this generous gift will have a direct impact on our patients and their families when they need us most."
---
Paige and Harper from Hasbro Visit Balise Subaru! - Jenny P
During the 2019 Annual Share the Love Campaign, Paige, 5 a patient from Hasbro Children's Hospital made a special visit to our friends at Balise Subaru in West Warwick RI! Paige was joined by her little sister Harper, mom Amber, dad Cliff, and representatives from Hasbro Children's Hospital. To date, Paige has had 25 surgeries and because of the partners like Balise Subaru Paige is able to receive the highest quality of care right here in her home state! Thank you Balise Subaru for "Sharing Your Love" with Paige and all of our Hasbro Children's Hospital children and families! We LOVE Balise!
---
Another Great Blanket Drop at Hasbro Children's - Alexa N
Another year, another successful blanket drop at Hasbro Children's Hospital on June 27, 2018. As in years past, during the #SubaruLovestoCare initiative, Balise Subaru partnered with the Leukemia and Lymphoma Society (LLS) to donate blankets to the patients at Hasbro Children's in Providence. We're thrilled to be a part of this campaign year after year and thank everyone at the hospital for allowing us to be a lifelong partner.
---
We Love West Warwick Animal Shelter! - Alexa N
In commencement of our Subaru Loves Pets campaign, the Balise Subaru team visited West Warwick Animal Shelter to deliver boxes of donated supplies as well as New Owner Kits filled with goodies to help adopters take care of their new pups and kittens. We even got to visit with some of the sweet animals up for adoption. Thank you, West Warwick Animal Shelter for having us!
---
Thank you, Bathe to Save! - Balise S
Our Australian mates from Bathe to Save returned to Balise Subaru on October 27th to celebrate a successful event raising funds for West Warwick Animal Shelter and to include is in the documentary they're filming about their national campaign! We are honored to be associated with this fantastic campaign and can't thank them enough for including us!
---
Bathe to Save National Tour visits Balise Subaru - Alexa N
Thank you to everyone who came out on Sunday, October 1st to help us kick off Subaru Loves Pets month with a bang! Our friends from Bathe to Save brought their national dog-washing tour to Balise Subaru and washed a number of pups with all proceeds benefiting West Warwick Animal Shelter.
---
Race the State & Balise Subaru - Alexa N
On August 6th, Race the State racers ran, paddle-boarded, kayaked and biked across the state of Rhode Island celebrating healthy lifestyles and the outdoors. Balise Subaru served as a major sponsor and drove the sweep vehicle, a Subaru Outback, for the final bike leg of the race from Narragansett to Westerly.
---
Spreading Love and Warmth to Cancer Patients - Amy H
On 6/27/2017, the Balise Subaru team visited Hasbro Children's Hospital to celebrate the Subaru Loves to Care initiative. Balise Subaru partnered with the Leukemia & Lymphoma Society to provide a donation of blankets and craft kits for cancer patients. Thank you Balise Subaru for spreading love and warmth to cancer patients at Hasbro!
---
Balise Subaru Donates to The Tomorrow Fund - Alexa N
As a part of the Subaru Loves to Care initiative, Balise Subaru partnered with the Leukemia & Lymphoma Society to donate blankets, art kits and well-wishes to The Tomorrow Fund Clinic at Hasbro Children's Hospital. This non-profit organization provides daily financial and emotional support for children with cancer and their families. Balise Subaru has supported Hasbro Children's Hospital for the last two years through our Share the Love campaign (2017 will make it three consecutive years!), so we are honored to support another important area of the hospital and their patients with our Subaru Loves to Care activation this summer.
---
Another $38,201 Raised for Hasbro in 2016! - Noah C
For the second consecutive campaign, Balise Subaru selected Hasbro Children's Hospital as our local beneficiary. During the 2015 campaign, our Subaru dealership raised an impressive $30,839 for the hospital. This year, we are thrilled to report a 23% increase in donated funds for a total of $38,201 raised. "The decision to support Hasbro Children's Hospital was an easy one for our team—the hospital is a critically important cause in Rhode Island; one that has touched not only many of our lives, but the lives of our customers as well," said Noah Cahillane, General Manager of Balise Subaru. "Giving back to the community is a priority for Balise Subaru, and we could not be more thankful to our customers who helped to make this gift possible."
---
Balise Subaru Donates $30,839 To Hasbro! - Ian M
During the national Subaru Share the Love event, Balise Subaru selected the Providence-based non-profit organization, Hasbro Children's Hospital as their beneficiary. During the campaign, Subaru of America would donate $250 for every vehicle purchased or leased to a charity of the purchaser's choice. An overwhelming amount of Balise Subaru customers chose the local children's hospital, reaffirming the dealership's selection. In total, the campaign raised $30,839!
---