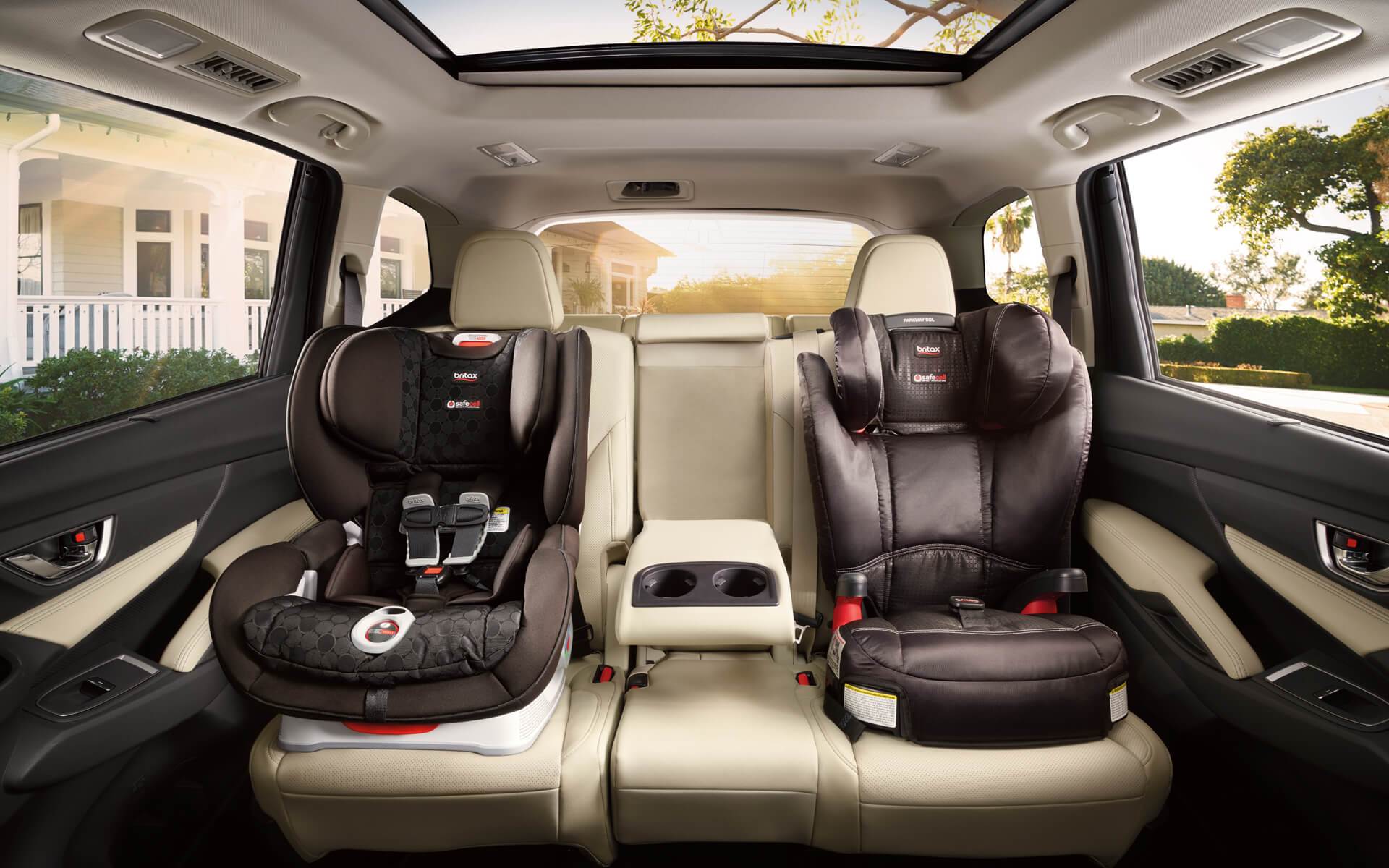 Overview
Subaru is renowned for its overall practicality and strong focus on passenger safety. Those looking within Subaru's SUV segment who are concerned with these vehicles' user-friendliness with children's car seats should look towards the 2019 Ascent and 2019 Forester. Both of these models are popular with families, and they're both exceptional in delivering the safety and convenience that passengers of all ages deserve.
---
---
2019 Ascent Child Seat Review
The Ascent's second-row seats aced the Car Seat Check on Cars.com, earning praise for their tall and rigid belt buckle stalks. This model is able to seat seven passengers when the second row is configured with the available captain's chairs, or eight passengers when that second row is the standard bench seat. For this Car Seat Check test, a captain's chair model was used and it was noted that the second row was highly accommodating for children's car seats.
The third row, however, was found by this study to be less than exceptional, simply because that row is a bit cramped. If you're thinking of buying an Ascent and plan to install a baby seat in the third row, be sure to check out the third-row access as part of your test drive and overall decision-making process.
Child car seat use a universal system of Lower Anchors and Tethers for Children, called LATCH for short. In the third row of the Ascent, there is one set of lower LATCH anchors on the driver's side. They are exposed for easy connection, but access to the buckles is awkward since there is not much room in the third row. In addition, because of the tight space in the third row, middle-seat passengers are prevented from using their seat belts if a convertible car seat (the kind that is used as rear-facing for newborns and is then converted to front-facing when the baby is older) is installed.
---
2019 Forester Child Seat Review
The '19 Forester received an "A" rating according to Cars.com's car-seat test. It received high marks for ease of accessing the LATCH components, as well as general infant seat installation, rear-facing convertible seat installation, forward-facing convertible car seat installation, and booster seat installation. There are two sets of outboard anchors, plus an additional third single anchor for the middle position. All of the anchors sit under velcroed leather flaps, which makes access and connection a breeze. The three top tether anchors sit on the back of the seat and are also clearly marked and easy to use. When the head restraints were removed in the second row, the booster seat fit well. The buckles are on short but stable stalks, making it easy for kids to grasp on their own. It should be noted, however, that the middle seat's seat belt comes down from the ceiling, partially blocking the driver's view of the rear. Aside from that, the Forester allows for optimal accessibility when placing different child seats into the vehicle.